CHECK WEIGHERS KW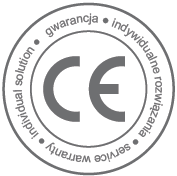 CHECK WEIGHERS KW
CHECK WEIGHERS KW – are devices placed at the end of a packaging line. They are tasked with checking the correct weight of the packed products. All packages whose weight is outside the set tolerance are rejected from the line; at the same time, a light/sound alarm is activated. Control weighs can be used with metal detectors and X-ray detectors.
Check weigher KW 200
container of incompatible product with closure
USB port
preceding conveyor belt
printer
feedback for filler
shelf for the ejector
Related Products and Services
Contact us
Our consultants will be happy to answer all your questions
and advise you on choosing the right products and services.

Piotr Gumula

phone: +48 515 139 994
mail: handlowy4@coffee-service.eu
skype: handlowy4@coffee-service.eu

Janusz Kropiowski

phone: +48 515 139 993
mail: handlowy3@coffee-service.eu
skype: handlowy3@coffee-service.eu