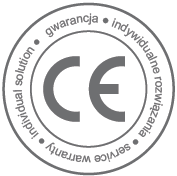 ROASTING MACHINE
ROASTING MACHINE SB/S – devices used for drying, roasting and sterilization various products.
The product is heated by electromagnetic waves in a rotating drum.
The heat generated by the induction loops, just like in an induction cooker, allows you to significantly save energy costs.
There is a model of the roasting machines can be charged or with a continuous mode, which additionally have a product cooler.
Roasting machine SBC/S 150 (continuous) + Cooler SBC/S 150
Roasting machine SBC/S 150
Related Products and Services
Contact us
Our consultants will be happy to answer all your questions
and advise you on choosing the right products and services.