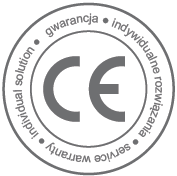 AUTOMATIC CANS/TUBES CLOSING AZP/S
AUTOMATIC CANS/TUBES CLOSING MACHINE AZP/S – a carousel machine designed for closing round tubes/cans with different diameter.
The closing machines are equipped with a conveyor that feeds the tubes to the carousel and collects them after they are closed.
Closing takes place by double crimping the lid by the closing head.
It is characterized by reliability, simple operation, smooth running, safety, easy maintenance, high efficiency.
Automatic cans/tubes closing AZP/S 30

ADDITIONAL OPTIONS:
additional diameter of can/tube
additional height of can/tube
POSSIBILITY OF MANUFACTURING DEVICES
ACCORDING TO CUSTOMER REQUIREMENTS
STANDARD MACHINES
AVAILABLE ON STOCK
Automatic cans/tubes closing AZP/S 30
Related Products and Services
Contact us
Our consultants will be happy to answer all your questions
and advise you on choosing the right products and services.