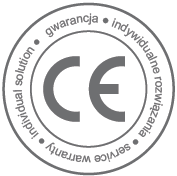 BUTTER GRINDER MK/S

(mills for the production of peanut butter, sunflower paste, sesame, etc …)
BUTTER GRINDERS MK/S are devices for precise grinding of soft, oily raw products in order to obtain thick, pasty products.
Grinding takes place between two shaped, adjustable discs (movable and stationary). The mills have high efficiency with compact dimension. The advantage is very fine grinding and the possibility of continuous mode. There is a possibility of cooling with a water jacket. Standard version is made of INOX 304.
Butter grinder MK/S 80
Grinder for making peanut butter, sunflower and sesame paste etc…


ADDITIONAL ADVANTAGES:
compact dimensions
simply maintenance
high efficiency
easy to adjust, control and clean
POSSIBILITY OF MANUFACTURING DEVICES
ACCORDING TO CUSTOMER REQUIREMENTS
STANDARD MACHINES
AVAILABLE ON STOCK
BUTTER GRINDERS MK/S
(for grinding dried tomatoes)
BUTTER GRINDERS MK/S
(for grinding the soaked pumpkin)
Related Products and Services
Contact us
Our consultants will be happy to answer all your questions
and advise you on choosing the right products and services.